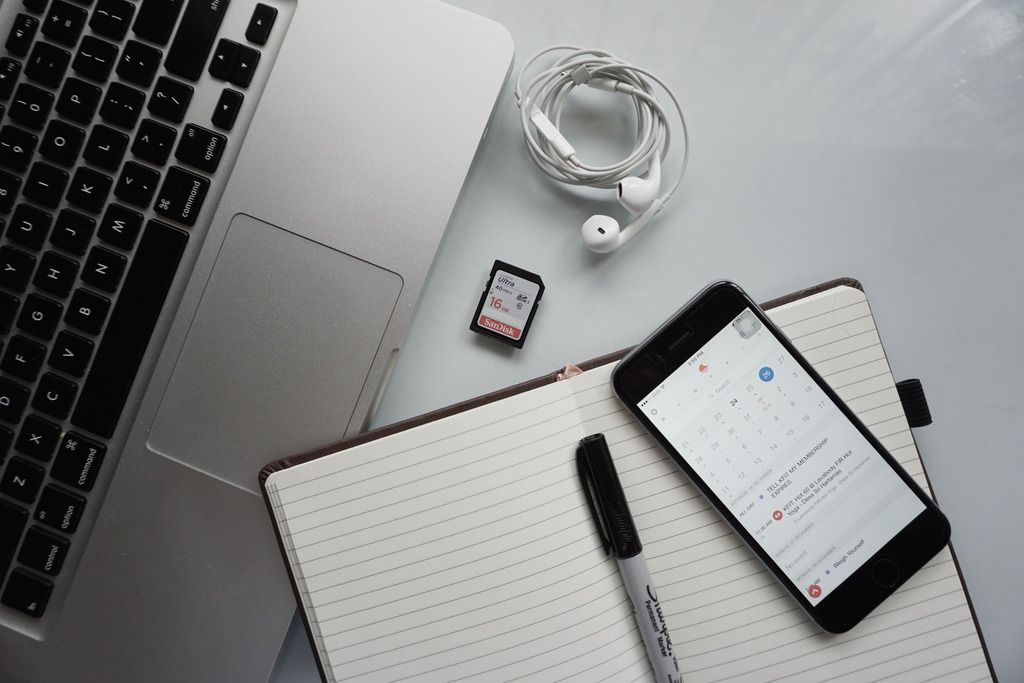 I'd like to consider myself to be extremely organised. I love schedules, I love creating events on calendars, I love planning my day or even reflecting on them. I think being organised keeps me feel secured - in short, I sleep better. I even did an experiment with my FitBit (which is a fitness device that tracks the heartbeat and etc) I only take 6 minutes to fall in deep sleep - it's pretty amazing, I must say.

Below are some tips to be more organised!
1) Get the perfect planner!
Be it digitally or you like the touch of real paper! Get something that suits how you work!
I try not to invest too much on fancy physical planners because I get bored with things too easily. So, I depend a lot on
Sunrise
, web browser calendar that connects both my mobile and my computer together - for my daily events, due dates or important appointments.
For notes, I depend a lot on
Evernote
for my notes! I organise them onto notebooks and divide them into sections of topics. On a daily basis, I keep a to-do list on a physical notebook - just a plain notebook with lines so I can write stuff on them :)
2) Make a daily checklist
Either every start of the day or the day before.
I don't usually have habits, but I cannot function without a daily to-do list. I make a check list of the things I need to do everyday regardless if I am at the office or at home. I am extremely forgetful, so I tend to write down even the smallest reminders, like texting a friend to wish her a happy birthday.
3) Prioritise
Usually when I create a checklist, I'll highlight the important tasks that need more attention and arrange them in priority order.
4) Key in every event you have!
My boyfriend finds it annoying that I invite him to date nights on my calendar. It has now become a habit - cause it freaking works? We get notifications and alarms before the event so we don't miss them. Oh, if you have time, color coordinating them really helps too!
5) Set a daily timeline!
I'm not sure if it's because I'm chinese or that I'm just a huge nerd to begin with. Ever since SPM days, I take time very seriously. Limit the amount of time required for your tasks therefore things will be done productively.
6) Keep a clean desk
Japanese at heart, I heard this from someone somewhere who once told me that the Japaneses' No1 rule to being organised is to keep a clean desk - which I 100% agree. Having a clean space helps giving you a clean mind and if things are neat, you won't need to spend another 5 wasteful minutes looking for things when you need them.


7) Think! What can you benefit from this?
Before you decide to commit to a task. Think, what can you benefit from this? Does it teach you something? Does it bring you happiness?
8) Think! Does this deserve your time?
Pretty much the same as the above description.
9) Take a break - and do something you love!
Don't forget to take a break, and take them seriously. On work hours, I have a strict schedule where I only take an hour break in between work hours. I usually take this time to watch youtube videos and take power naps lol - cause I'm just anti-social like that.
10) Sunday nights are for reflecting and planning the week ahead
To be honest, I hate Sunday nights. I call it - the Sunday depression. For some reason, I get even more emotional on Sunday nights than during my period. The amount of things that goes into my mind on Sunday nights are crazy intense, and stressful. So I usually spend an hour or two before bed to open up all my emails and plan my Monday. I like sending out emails on Sunday nights too (I'm sorry, for those in the office reading this lol) so I'm at least a little more ahead in schedule and get to spend the rest of the next day not planning but actually doing WORK.