My love for
Estée Lauder
been well known among many, especially when people have been questioning about my daily skincare regime. A skin status recap - my skin was at its worst in the first quarter of the year, to be specific it was in the both extremes of being too oily and too dry at the same time. With that, I was introduced to
Estée Lauder's Nutritious Vitality8
™
and was told that it suits my skin perfectly. The range of 4 key products promises to rejuvenate the skin and helps to keep the skin well-balanced - perfect for dry skin types, especially catered for the youthful generation.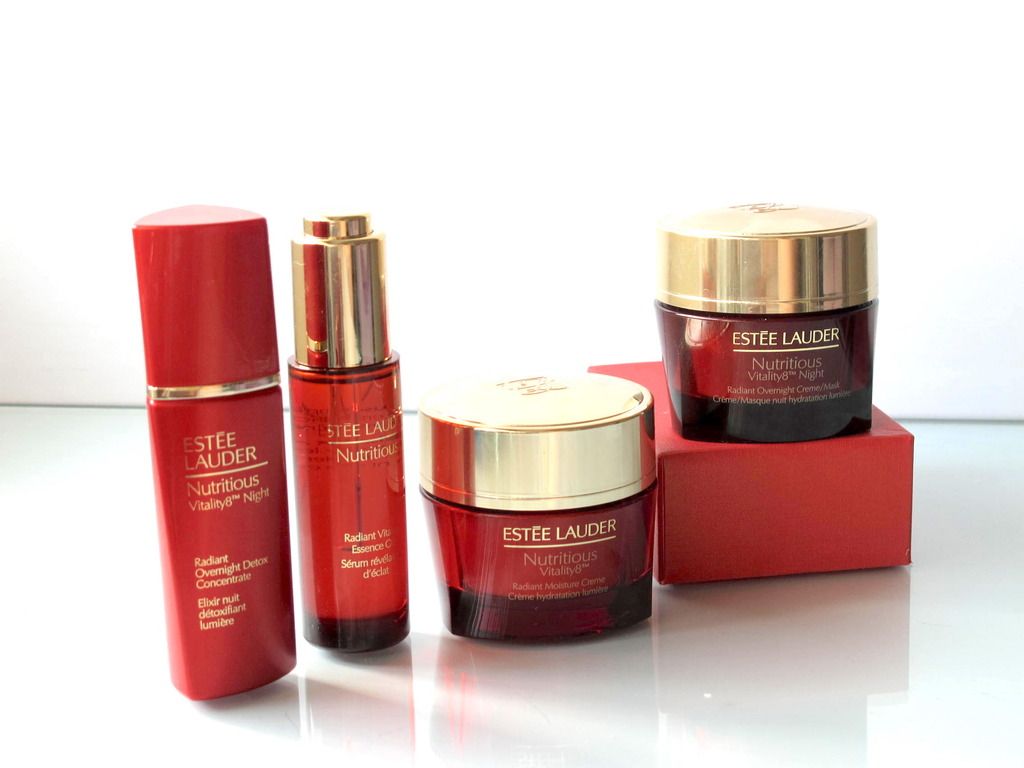 Guess what! I really can't get enough of it.
A step that I won't miss every morning is the
Nutritious Vitality8
™
Radiant Moisture Creme
. I've noticed how this have transformed the application of my make up and how it provides sufficient hydration for my skin throughout the day. Moving onto my night routine, the
Nutritious Vitality8
™
Radiant Overnight Creme/Mask
is hands down one of the best overnight cream I've encountered as well. Imagine having smooth, dewy, nourished and velvet-like skin the next morning - it's exactly what motivates me to work through my night time skin care routine. This works miraculously at night while I'm bed as it deeply nourishes the skin, regenerate skin cells and provides skin the right nutrients to kick start the next day.
Occasionally when my skin feels extra thirsty after a face wash at night, I'd go for an essence oil to even things up on the corners of my nose and my forehead. In this case, I'd go for the Radiant Vitality Essence Oil before the night cream. A little goes a long way with this - just 2-3 drops of it is enough to distribute evenly on the face. Although it takes time for this to absorb, I think of it like a well-needed treatment for hydrating. Additionally, on days when my skin travels to the extreme opposite - sudden breakouts, the Radiant Overnight Detox Concentrate salvages the day. It assists to detoxify and absorb impurities of the skin leaving skin well-balanced.
My experience with the Nutritious Vitality8 is truly a skin transformation. My skin has never felt so nourished, dewy, hydrated and radiant. It came to a point where I'd force myself up from my bed if I forget my skin care - it truly caught me into how important skin care is and how much of an impact it could do to our skin. Trust me, you may be like "I'm only 20, I got like 20 more years till I worry about my skin." but honey, you don't know, you really don't know. It's always good to start early.