Hey guys! It's Tuesday! I've got to mention this on every post for the time being so everyone gets the gist of my posting schedule; so, it's a BLOG POST on TUESDAYS and THURSDAYS, and a VIDEO on SATURDAYS! However, I wasn't able to upload my video last week because I did the smartest move of leaving my mac charger at the office.
Today, we are going to drift away from the beauty segment of things and talk about some lifestyle elements that MAY come in handy. I have always found interest at reading blog posts where bloggers share the apps they use, which is why I thought of doing my version of a What's in My Phone tag.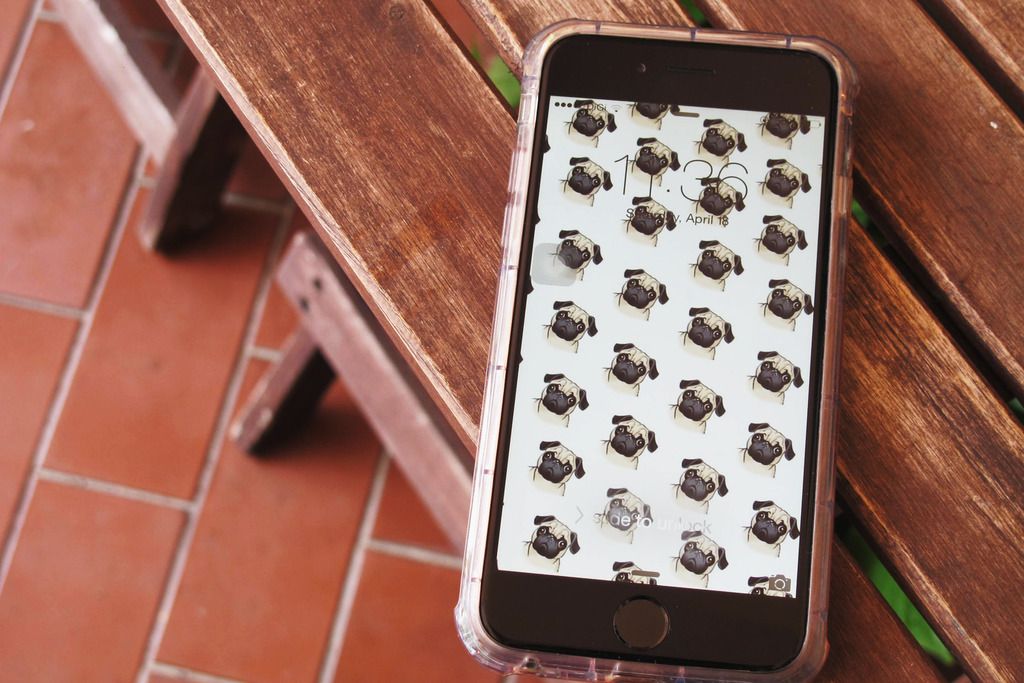 I consider myself quite low maintenance when it comes to phone covers because I am one of those who find no point buying a phone cover that looks like a huge perfume bottle (Totoro is an exception), and definitely not one of those who change their phone covers like changing underwear. Plus, I get bored really easily with bold patterns so I like to keep it as original as it can possibly be, I use a clear silicon cover which is from a pop-up store at LG-floor Mid Valley. My wallpaper is for some reason, exceptionally messy at the moment, it is a random picture of pugs I found on Pinterest.
I like to keep my phone as easy-to-access as possible, so I keep them at only 2 pages, and I avoid putting icons on the last row, cause I like it to look neat and tidy. The first page is usually just boring utilities; my mail, photos, safari, music. And on the second page is where I have most of my apps categorised in folders. I avoid putting my most-used apps in folders so it's easier to access; tumblr, pinterest, waze, facebook, twitter, messenger, instagram, youtube and snapchat; whereas for the others I put them into folders so it looks less messy.
For photography, I use adjust the lighting and contrast from the photo app that came with the phone. As for layers and effects, I only use VSCOcam. For collage, I use PicsArt. For two-frame animation, I use PHHHOTO. For whatever, I use Snapseed.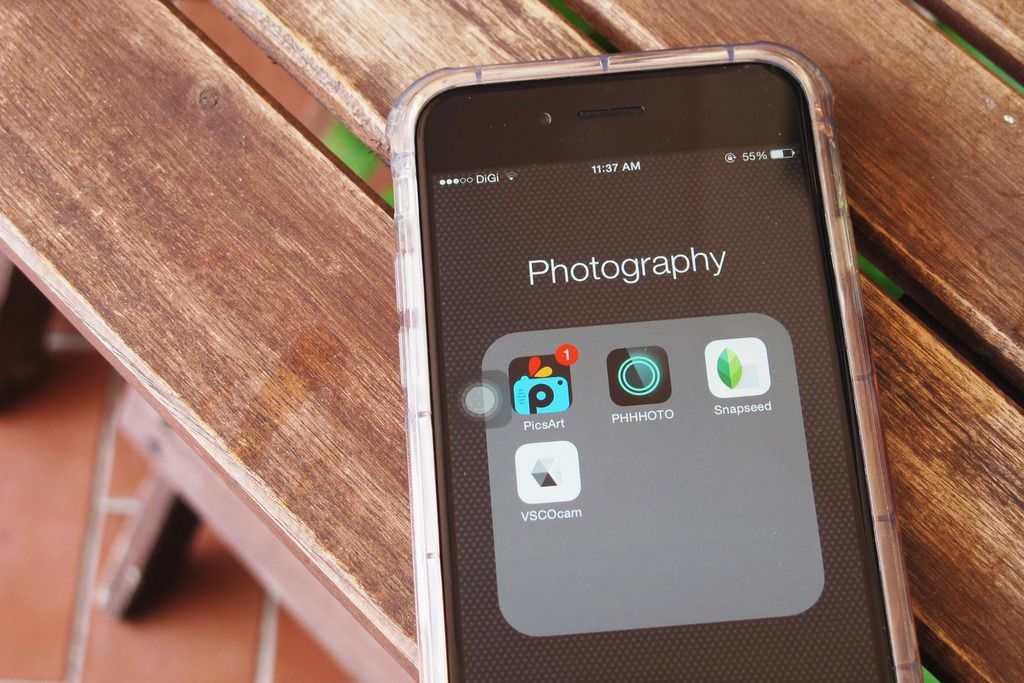 The above shows my random utilities folder, Donutes (it's a coffee place I go to often, located nearby my church), GSC (for movie date nights), Clue (for that time of the month), Uber (for days when I don't have a car), Starbucks (because Caramel Macchiato is everything).
RECOMMENDED APPS
VSCOcam
I like how VSCOcam allows me to store my photos in its library, and allows easy sharing to social platforms using the app itself. So most of the time, I'll pre-edit my photos way before and share them whenever the time is appropriate. I understand that some of the effects they provide tend to make some photos look a little grainy, but I like how they allow you to adjust the opacity of the effect whichever suitable for different photos. My favourite effect are mostly of the blue tones, but I often go for A6.
Download
here
.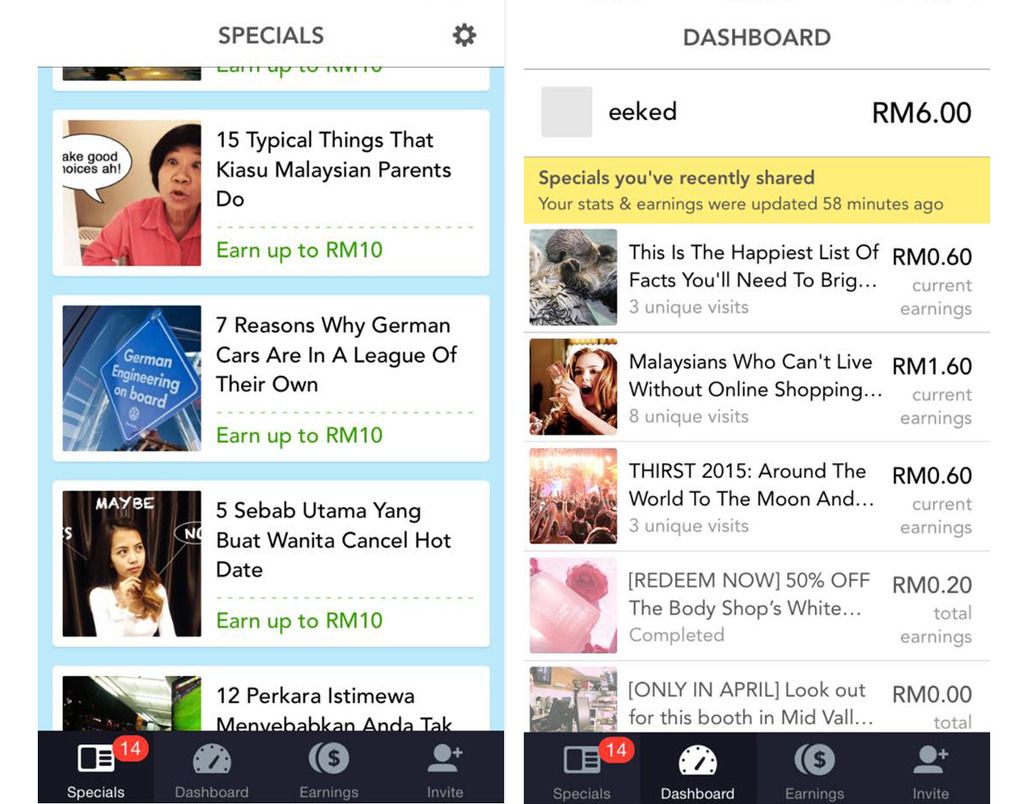 8Share
I share a lot of stuff on Facebook, to a point I think I am so used to people not liking my statuses and posts. I couldn't care less, to be honest. So I registered an 8Share account where I get to share good and timely content! It is another why to share great stuff online to our peers and at the same time getting some extra benefits in return.
Download for
Android
and
IOS
.
Pocket
Ok, here's a good one. I use this VERY VERY often. I save all my articles using this app, so I guess you can see many blogging related articles in there. Articles load quickly as well using Pocket. Yea, that's all I have to say because that's all it does.. The app is free by the way.
Download for
Android
and
IOS
.
Clue
I think almost every girl who owns a smart phone uses a period tracker app because it's that convenient. Often, we need a tracker to tell us "Girl, you're gonna be a little emotional tomorrow, so bring some chocolates along with you." I was using MyPeriodDiary before this but I got tired with the extra-girly layout, so I came across Clue which has a nicer-looking layout - it is essential. Clue allows you to add statuses like your moods, pain, sexual activities of which I never bother to use. However, overall, Clue works accurately and I need that.