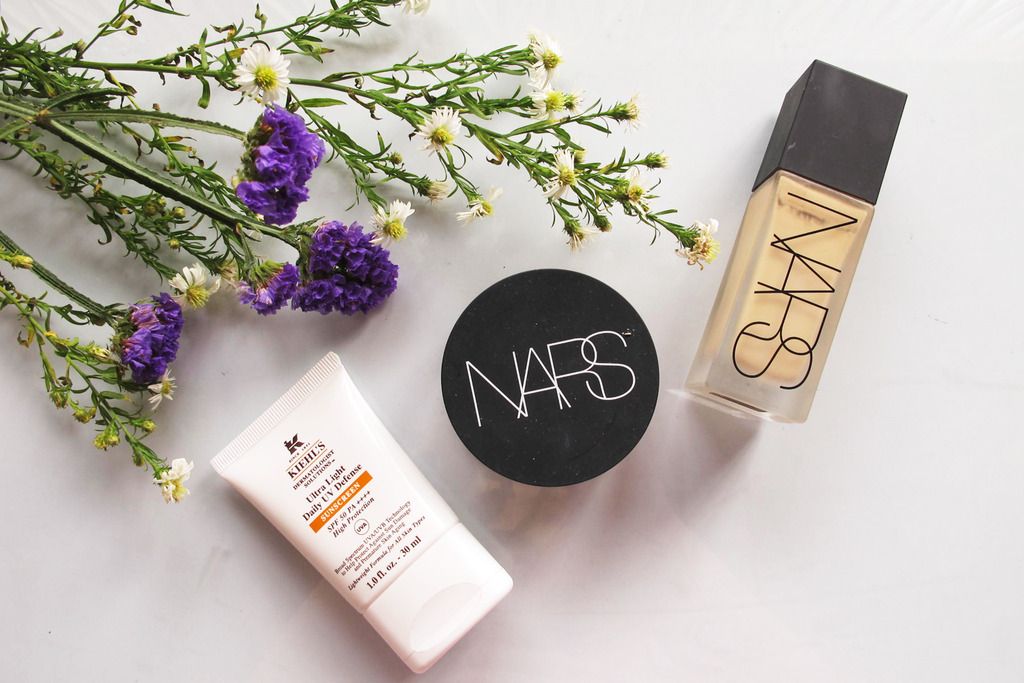 It seems like my video is never going to be up. It's SO disappointing, especially to spend like an entire afternoon just filming and editing it. Plus, I've planned this a week ahead and still, shit happened #bloggerproblems. Should've had a back up. Damn it. As promised, I'm going to roughly go through my current foundation products with you despite the lack of moving pictures to explain my actual routine and the application of the products.
Firstly, I don't usually wear a full coverage foundation on a daily basis. On weekdays, I'd like to keep my face more breathable so I'll use an
EE Cream
(click to read about the EE Cream I'm currently using). However, there are some days I'd like to go all out lookin' flawless and photo ready :3 which means an hour of slathering layer by layer of stuff on my face before heading out. I'm kidding. But yeah it takes about 20 mins, just the foundation. (Dang, we girls waste so much time).
Before slathering foundation on my face, I usually go for a sunscreen because I live in a country that is sunny all year round. I've been using the
Kiehl's Ultra Light Daily UV Defense
pretty obsessively these couple of weeks only because I realised that I've got quite an amount of contact with the sun especially during lunch hour where I'm usually outdoors. I guess one thing about sunscreens is that they are usually oily and they don't sink in well enough to proceed with the liquid foundation. However, the
Kiehl's Ultra Light Daily UV Defense
has made the important step much easier to go with on a daily basis due to its light weight texture and it's ability to absorb into the skin quickly. Besides, this comes with an SPF 50++++ so it's cool :3
It's probably not a surprise for most of you that my go-to foundation has been the
NARS All day Luminous Weightless Foundation
, in the shade Deauville. You know it's serious when you can memorise the exact name and shade of the product without looking at the label. Ever since NARS sent me the product to try out, I can't seem to get my skin to go along with any other products at the moment. I like how this foundation can go a long way with just a little pump on the
Real Technique Buffing Brush
and that it gives my face that matte finish. Usually, I'd like to take my time buffing in the foundation in a circular motion, making sure that the foundation blends in without leaving any harsh lines on the neck and forehead. However, I had to say that this foundation doesn't seem to make my skin lookin' fresh all day, I don't find it as long wearing as other foundations. Especially when I'm always working and that I can't give a shit about my face 24 hours a day, I always find myself looking really gross at the end of the day. With that, I believe there are many other choices out there that would probably suit my skin much better, and it is my job to start hunting.
Last but not least, I'll set my foundation in place with
NARS Soft Velvet Loose Powder
in the shade Flesh. Again using the same Real Technique Buffing Brush, I usually dab the brush onto the powder lightly and dab the powder residue on my face lightly on areas such as my forehead, my nose and my cheeks.
Be sure to stay tuned to my
Youtube Channel
for more great stuff this week and next. This week, I'll be uploading hopefully two (2) videos because I missed one the week before. Also, recently, I've come around to using
Snapchat
, so you can add me at
@eeked
:) Follow me on
Instagram (@eeked)
as well for more updates!